With all of the abundance growing rapidly around us, it's been hard for me to narrow down what I want to write about. I decided to go with what's got my keenest attention at the moment. It isn't even something grown locally, but it is something that is in the peak of its season...
Copper River Salmon
.
I was first introduced to this amazing fish by some dear friends while I was visiting Seattle a few years ago. After the first bite my opinion of salmon was forever changed. It became clear to me why I had never before been much of a fan of salmon, as I had never before eaten salmon that was so delectable. Although, like any good Wisconsin girl, I am very particular about the style and preparation of my Friday fish fry, I had never given much thought to the quality and variety of fish I consumed.
Where?
The
Copper River
, ranked 10th largest in the world, is a 300 mile river in south-central Alaska that has an extensive delta ecosystem and abundant runs of wild salmon. Due to the size, terrain, and cold waters of the river, the fish who traverse these 300 miles to their spawning grounds are very strong and develop flesh rich in omega-3 fatty acids, Vitamin D, and protein. All of this equates to an incredibly rich, nutty flavor and velvety melt-in-your-mouth texture, making them some of the most prized salmon in the world.
Meet the fish!
Copper River King Salmon from www.alaskadispatch.com
The varieties of Copper River salmon include King (Chinook), Sockeye (Red), and Coho (Silver). King is exactly as its name suggests. It is the largest of the species and, in my opinion, the most luxurious on the plate and palate. Its rich reddish-orange color makes it a clear standout in any fresh fish case. It is loaded with healthy, flavorful fats and has a silky yet firm texture. This fish is a heavy hitter price-wise, and it is also a fish you can, and should, enjoy as is. When was the last time you ate fish that could hold its own on your plate with minimal seasoning and certainly without being wrapped in puff pastry, battered and fried, or swimming in some kind of sauce? Copper River King has the shortest commercial season from mid-May through mid-June.
From www.copperriversalmonwholesale.com
Sockeye is a smaller version of the King, sporting the same rich color, a firmer texture, lower fat content (though it's still quite high), and full flavor. Copper River Sockeye season runs longer than King, from mid-May through July. Sockeye is a good compromise between flavor and price.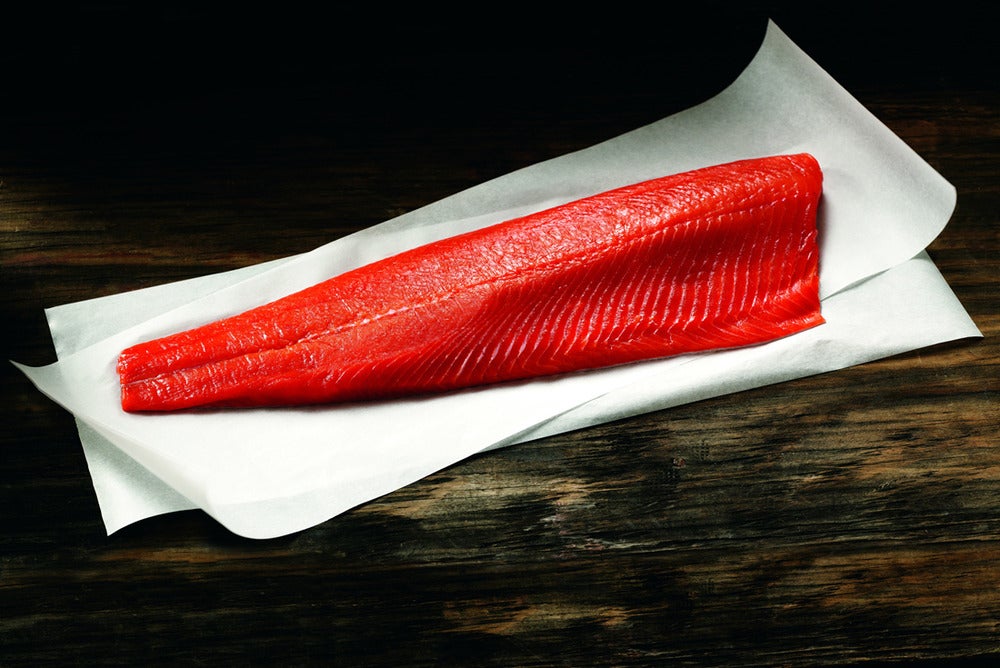 I can't get enough of the color of this fish!! www.copperriverfishmarket.com
www.copperriversalmon.org
Coho salmon is a late season fish, August through September, mild in flavor, firm in texture, even smaller in size, and lends itself well to grilling and use in other recipes, such as chowders and soups.
The Challenges
If you thought our conventional meat industry was bad (watch
Food, Inc.
), the fishing industry is even worse, but it's not something we hear much about. Slowly but surely more attention is being paid to preserving our waterways and restoring the horribly disrupted marine ecosystems throughout the world. The absence of regulations and increased over-fishing in order to meet uneducated consumer demands, has lead to devastating reductions of fish populations, almost to the point of extinction in some cases...
Chilean Sea Bass
and
Bluefin Tuna
are two examples. The bandaid answer to this growing problem was the establishment of
aquaculture
or fish farming. Despite very few exceptions (e.g. locally closed loop farmed Tilapia from Falcon Aquaponics in Slinger, WI), fish farming has gone the way of
CAFO
meat production,
destroying the environment
and producing fish that are unhealthy in their own right (diseased, injured, and stressed due to cramped living spaces and poor nutrition) as well as to those who consume them...meaning us.
Unfortunately, not all seafood watch groups are created equally. Again, due to limited regulations, some organizations are commercial and effected by lobbying and ad money and yet other businesses who claim to offer consumer assistance in the fresh fish case with helpful signage, simply change the criteria of what "best", "good", and "avoid" means to suit their needs.
Though I am a
locavore
at heart, eating seasonally and sustainably is of equally high importance. Purchasing Copper River Salmon, while it's in season, fits my criteria for responsible consumption. Alaska has made huge strides in sustainable fishing regulations, making it almost a guarantee that fish caught by professional Alaskan fishermen will ensure that the fish were caught during their appropriate season and in a sustainable manner.
The bottom line is that finding sustainably fished seafood has become quite a challenge, especially here in the Midwest. Thankfully we have a few great resources at our disposal. And, just because a product might come from another part of the country doesn't mean we can't still support local businesses in procuring said product. I have learned a lot over the past couple of weeks, as I researched where to buy my Copper River Salmon this year, that will help me buy seafood in the future. I had always thought that buying seafood from fisheries in the sourcing locale ensured I would be getting the freshest and most sustainable product. I've discovered that that's not necessarily the case.
How can we make responsible seafood choices?
Thankfully we have a wealth of sustainably minded chefs and food producers in our area who can help us make better choices in our food consumption.
Fortune Fish Company
in
Bensenville, IL
, is a leading seafood distributor servicing the Midwest who has made a commitment to quality, variety, freshness, service, and most importantly, sustainability. I discovered that in addition to supplying various restaurants in town, they are the primary source for most of
Metcalfe Market
's seafood.
I spoke with
Leah Caplan
recently, Chief Food Officer at Metcalfe's, to learn more about their seafood buying program. In recent years they have developed a beautiful system for educating the public on their choices for buying seafood, by ranking fish in the case as being "best choice", "good alternative", and "unsustainable". They also provide information on the method of harvesting and whether the fish was wild caught or farmed. After much research Leah decided that using the
Monterey Bay Aquarium Seafood Watch
criteria was the most unbiased and accurate system. Monterey Bay Aquarium Seafood Watch also has many consumer tools available directly from their website in an effort to help us make wise seafood choices no matter where we are. Metcalfe's Market currently has Copper River Sockeye in their fresh case. They don't carry King, but will order it and many other things they don't routinely carry, if you just ask. I have also personally had nothing but great interactions with the fishmongers who work in Metcalfe's seafood department. They are always very knowledgable, friendly, and eager to serve. Just like talking to the farmers at the farmer's markets about their growing practices, don't be afraid to ask the folks at grocery stores the same questions, holding them to your personal standards for food buying.
Now what?
Just like putting up fresh, local fruits and vegetables in the freezer at the peak of their season, when properly handled and packaged, your Copper River Salmon will store very nicely in your freezer throughout the next many months. I highly recommend freezing it on a sheet tray in individual pieces and then vacuum sealing for longer term storage. I am a Copper River King fan and my favorite way to prepare it is to keep it very simple. Searing the skin to get it crisp and then cooking slowly under a broiler or on the grill with a light seasoning of salt & pepper, lemon pepper, or butter, lemon, and dill. (This is one instance where you do not want to throw the skin away. If you get it nice and crispy it is delicious and oh-so-good for you.) The fish really doesn't need anything else and because it is so rich in healthy fats, it really doesn't even need much of any fat added during cooking. Cook the fish until it just starts to flake, then remove it, cover with some foil and let it sit for a bit. You don't want to overcook it, but you want it cooked through...just beyond the fleshy "rare" stage for most people.
Once you have tried Copper River King or Sockeye Salmon you will never look at pale farm raised and Atlantic caught salmon the same again. King Salmon has about one more week in its season, so act now if you are looking to get your hands on some of this amazing fish!
Lemon Garlic Wild Salmon
(recipe included in one of my past Copper River Salmon orders from Wild Salmon Seafood, Seattle, WA)
(2) 8oz salmon fillets-skinless (I leave the skins on)
Melt butter in skillet over medium-high heat and stir in garlic.
Season salmon fillets on both sides with lemon pepper.
Place fillets in pan and cook 10 minutes per inch of thickness or until fish flakes when tested with a fork. Flip fillets half-way through cooking to brown on both sides.
Sprinkle with lemon before serving.